Our Farm, Our Family
Morbi leo risus, porta ac consectetur ac, vestibulum at eros. Integer posuere erat a ante venenatis dapibus posuere velit aliquet. Duis mollis, est non commodo luctus, nisi erat porttitor ligula, eget lacinia odio sem nec elit. Sed posuere consectetur est at lobortis.
Fiola farm operates on the 120-acre Fiola family homestead, located in the Franco-Manitoban community of Ste-Geneviève. We currently sell direct market; pasture raised lamb and wool products, pasture-raised chicken, hay and straw in small square bales and some grains (oats and some ancient gains).
Currently, our flock consists of 25 breeding ewes. The majority of our ewes are Rideau Arcott with some Shetland, Rambouillet and Romney crosses. We use purebred rams to achieve our desired lambs. Every year in the fall we select a few ideal candidate ewes to sell as breeding stock. Send us a message if this is of interest to you or if you would like more information about our breeding program.
As stewards of the land we want to ensure that the land will be healthy for generations to come. It is in this spirit that each decision we make is based on four key values: earth-friendly, sustainability, respect, use what nature has to offer.
We also use intensive rotational grazing to feed our sheep and chickens, giving them access to fresh grass. This also acts as a natural way to control parasites and for putting nutrients back into the ground.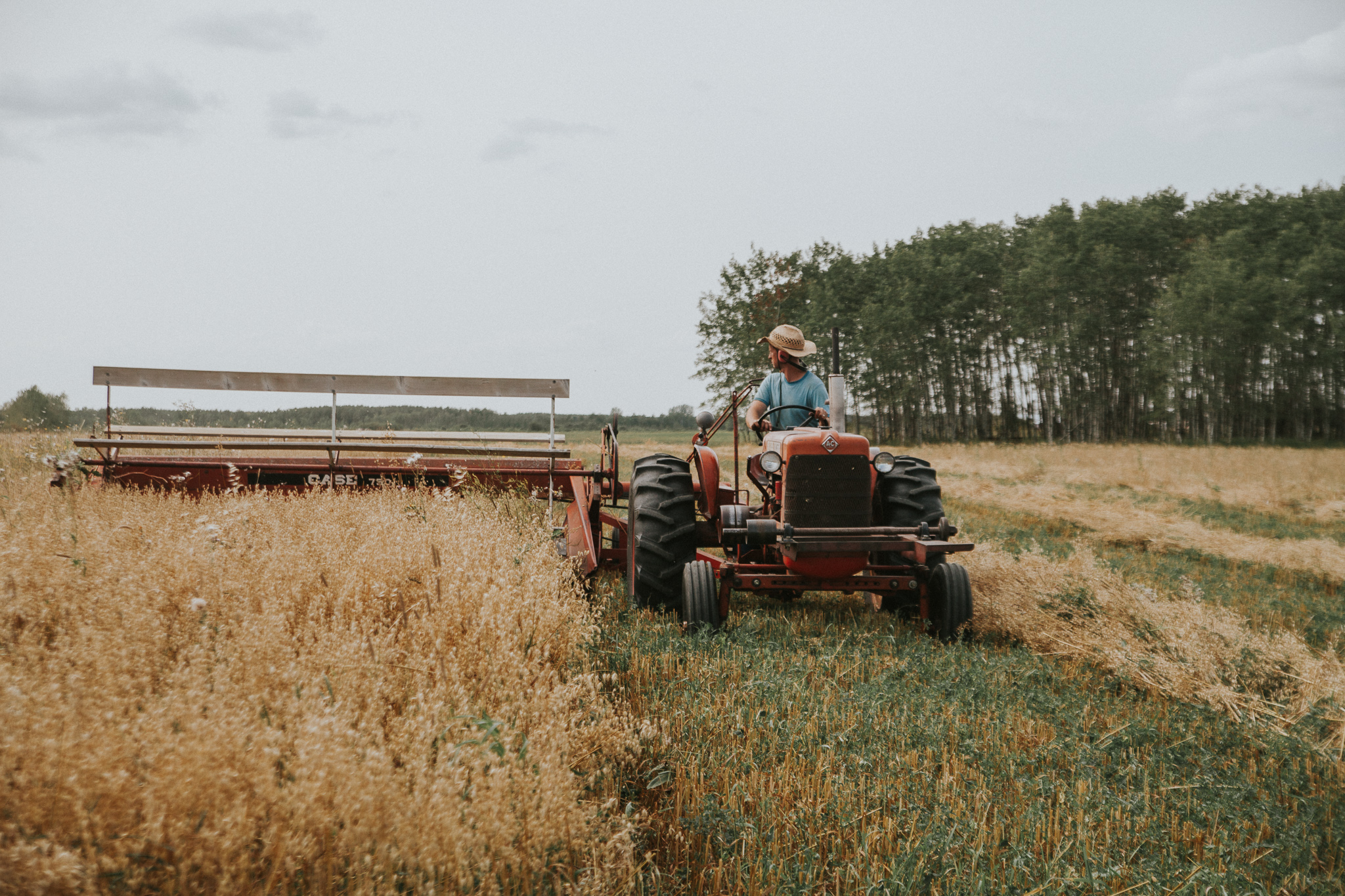 No pesticides and herbicides are used on our farm, which means we work with nature to maintain the integrity of the soil, ensuring that it will not be depleted when entrusted to further generations.
Sourcing ethical and earth-friendly products is one of our priorities. We aim to use a minimal amount of packaging for our products. Knowing that plastic usage is a real issue on the planet. Wherever possible, all of our packaging will use none or the least amount plastic possible.
Use What the Earth Has to Offer
Our livestock is pasture raised, out in the open, where sheep get to graze bright green pastures, and our chickens get the best mixed diets of grains, grasses and bugs. Keeping the animals out of the barn as much as possible allows them to soak up the sun. This results in a happy, healthy animal, flavourful meat and beautiful fibre.
Our meat is antibiotic- and hormone-free, antibiotics are only used to treat when necessary and never in an animal that will end up as consumer meat.
Not only are our animals treated with respect, but so is our land to ensure generations to come can also live off the land. Our actions demonstrate the utmost care for all living creatures on our farm, even visitors.
Being of Métis heritage, it is extremely important for us, when using an animal for meat, to honour the animal by using it entirely. Whenever and wherever possible bones, fat, skins and fleeces and feathers that would be otherwise discarded are used in many of our by-products. Please contact us if you have a need for any of these items.
Along with gardening, we also forage sustainably to add to our diet and to complement our products, such as our sheep tallow salve.
Joey Fiola
Farming has been in my blood from a young age. I started operating tractors with my grandfather at 5 years old. My interest in tractors and farming convinced him to come out of his 10-year retirement and to stop renting out the land so we could make hay together. After my grandfather passed in 1999, I continued farming with the help of my uncle and assisted with the general maintenance of the property for my grandmother throughout my studies. In 2003, I completed a Diploma in Agriculture and in 2010, I earned a Degree in Mechanical Engineering at the University of Manitoba. In 2012, Christel and I moved onto the family homestead where I continue to farm on evenings and weekends and in an engineering firm on weekdays. The job I enjoy most is picking my small square bales with my bale wagon.
Our Girls
We have three daughters who are enjoying the wonders of the homestead and "free-range" living. Our girls don't shy away from spending time outside in the dirt, in the sun or in the snow. On a day to day basis, they help us with chores on the farm, love spending time in our family garden (picking fresh tomatoes being a crowd favourite) and playing with the barn cats, chickens and lambs.
Christel Lanthier
As long as I can remember I have wanted sheep, I never imagined it might become a reality someday. When I was little I lived on a small acreage just outside of Saint-Pierre-Jolys, MB. I have some really great memories about that place and when I moved to the city, getting back to the country was always like a breath of fresh air. After high school I decided to pursue a career as a goldsmith, which brought me to the Alberta College of Art and Design. Being in art school opened up my eyes to many mediums. I took textile design classes in dyeing and weaving, as well as sculpture and photography. I continued my studies at the University of Manitoba where I focused on photography, and design classes. After moving to the Fiola homestead with Joey in 2012, I started raising a few heritage laying chickens (the gateway animal) and in 2016 we purchased the farm's first 5 ewes. I love spending time outside on the farm, especially with my camera. This will be evident if you follow us on social media!